Welcome to piping karaoke.
Bagpipe Star lets you be a bagpipe hero. You play along to fully-produced backing tracks to the world's favourite piping tunes. It's bagpipe karaoke, with the sheet music scrolling on the screen as you perform.
Experience playing lead bagpipe with full rock, folk and brass band accompaniment. You'll sound just like famous police bands, the Scots Dragoon Guards or the Red Hot Chilli Pipers.
It's perfect for pub performances, busking, karaoke sessions with your pipe band friends, playing on laptops with electronic pipes, or just making solo practices more interesting.
Available as a DVD or as a download for iPhones, tablets and computers.
Watch the video below to see BagpipeStar in action...
Video demonstration of BagpipeStar.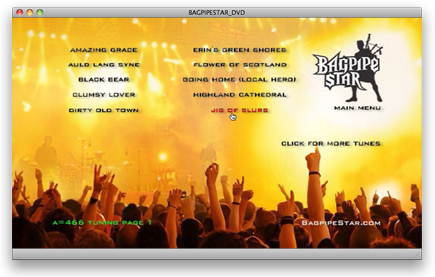 Screenshot of a BagpipeStar tune selection menu page.
Play along to the bouncing ball.